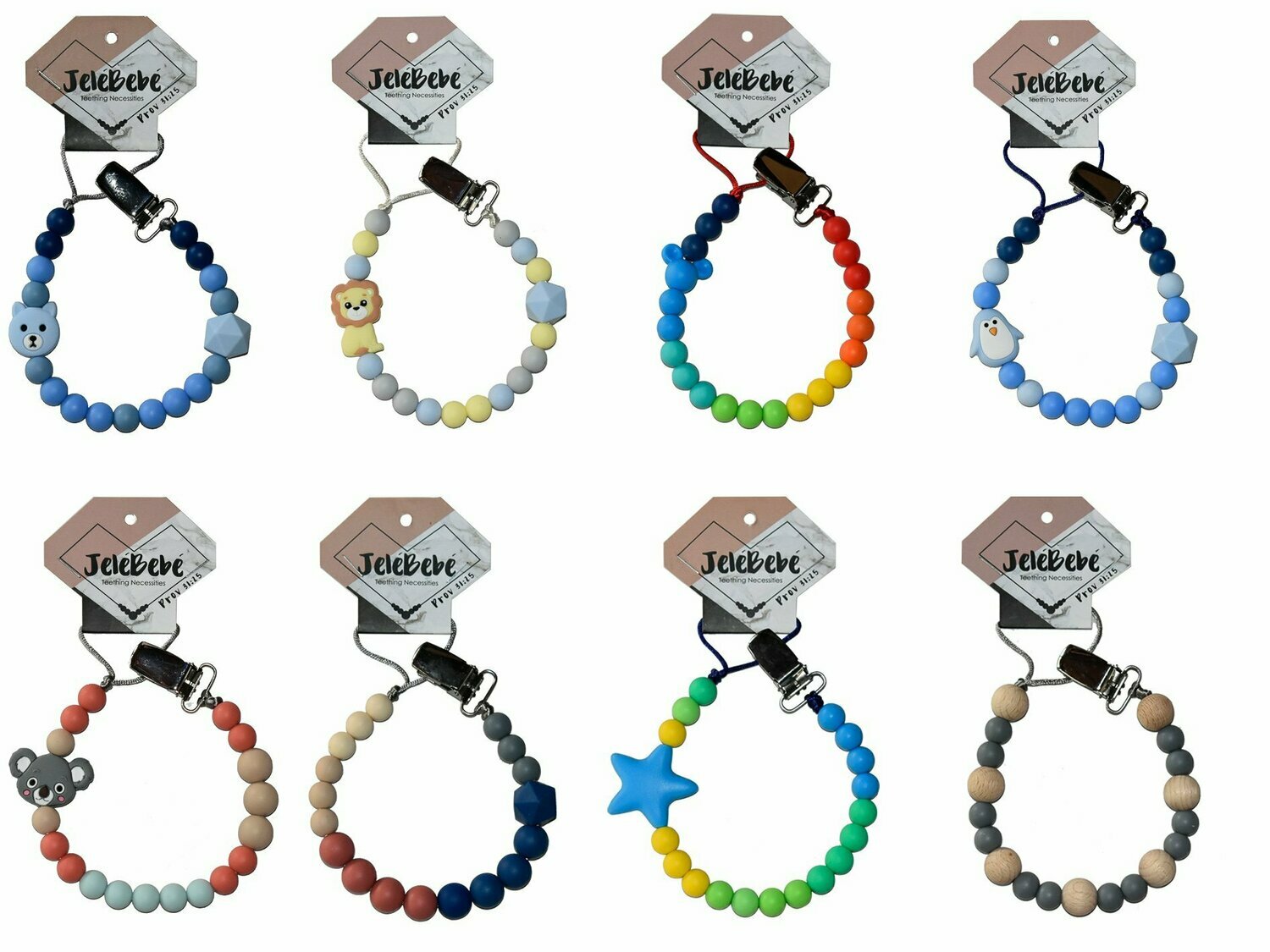 3in1 Silicone Teething Dummy Clips - Boys - Standard length (31cm)
SKU 81013
Product Details
The 3in1 ChewChain / Dummy Clip is a real money saver. Why?
It's a dummy clip holder
A teether
and a great sensory development tool.
Your teething Bebe can now use his/her's clip to soothe and chew, stimulate and soothe his/her's sore and itchy gums with the soft and squishy beads on the chain.

Different texture beads are excellent for sensory development as most Bebe's explore with their mouths.

The beads used are either;
All Silicone beads: BPA FREE, Phthalates FREE, Cadmium FREE & Lead-FREE
Or a combination of silicone beads and natural beach wood beads.
The wooden beads are raw / untreated and can be treated with either;

Olive Oil
Coconut oil. Coconut oil has great anti-bacterial benefits.
Care:

(Should not be kept in water for extensive periods of time & to be dried after a wash)
The clasp is made out of metal.

Soft silicone inside to protect Bebe's delicate clothes.
Should not be kept in water for extensive periods of time. (The clip may rust)
Should be dried after a wash.

Safety
Original JeleBebe 3in1 ChewChains are made in a very special manner.
The knots are specialised to secure the beads on the string for safety.

WARNING: The ChewChain is not a toy and does contain small parts that can be a choking hazard and the cord can be a strangulation risk. Please check product for irregularities and it is recommended to discard after 6 months of use.
(Depending on the aftercare)

JeleBebe Teething Jewellery & Accessories can assist in keeping exploring hands busy. JeleBebe Teething Jewellery & Accessories is South African owned and operated.

EASY TO CLEAN: Hand wash with mild soap and lay flat, dry with a cloth or wipe over with a baby wipe. Wash as often as needed.
DONT SEE A COLOUR YOU LIKE? WOULD YOU LIKE TO DESIGN YOUR OWN? We can design a clip for you to your specifications. Simply add the product to your basket, complete shopping and we will contact you!

Save this product for later