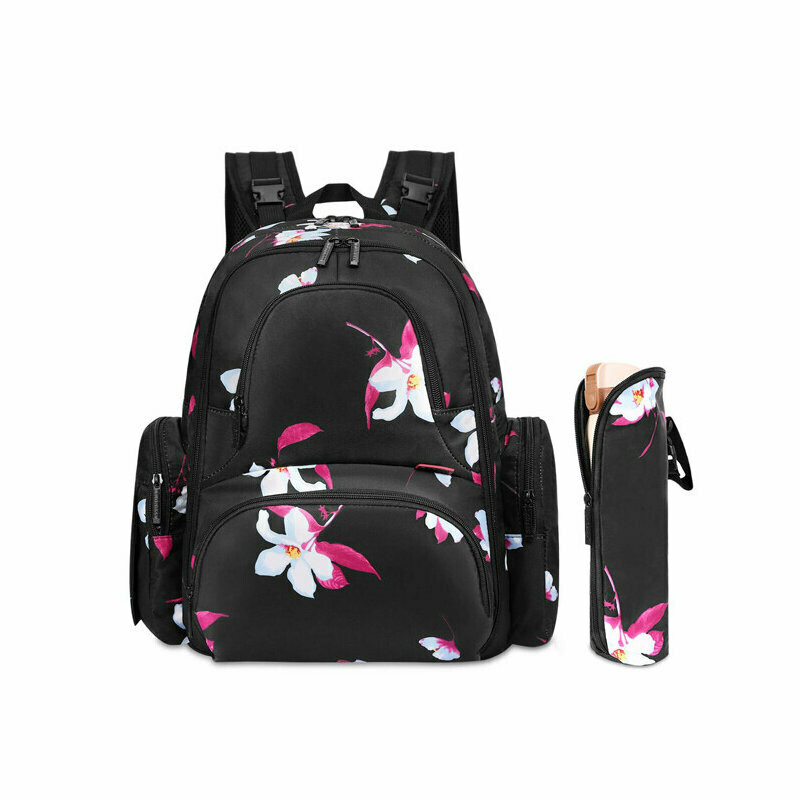 CC Flower Back Pack Baby Bag - Cotton Collective
SKU 00013
Product Details
Flower Back Pack Baby Bag
This Multi-Functional Baby Bag will take you from Baby to Toddler stage. Ensuring that you get longevity out of your bag.
Because the Baby Bags is a backpack and has stroller straps it will free up your hands so that you can manage your stroller and baby!
Features:
Bag dimensions: 17.3 x 13.3 x 7.4 inch. Volume: 26 L. Roomy enough for holding items you want to carry for baby.

Lots of functional pockets. Include a side tissue pocket, a side insulated Pockets. Two front waterproof pockets for diaper. In the bottle compartment, include three insulated Milk bottle pockets; A net compartment for towel.; A hidden pocket with zipper for keys. The main compartment for baby clothes, shoes, etc.

Include changing pad and an extra insulated sleeve. Convenient for taking care for baby.

Comfortable carrying. A soft foam padding on the back of the bag and the back strap guarantee a comfortable carrying.

New design stroller strap system. 2 adjustable stroller straps been added to the back straps for fixing the bag to a baby stroller, more duarable than removable stroller straps, you won't forget the take the straps!
Shoestring Size Guide
Size 0 is 0-6m and 10.5cm in length
Size 1 is 6-9m and 11.5cm in length
Size 2 is 9-12m and 12.5cm in length
Size 3 is 12-18m and 13.5cm in length
Size 4 is 18-24m and 14.5cm in length
Size 5 is 24-36m and 15.5cm in length
Please measure your little one's feet, add 5mm and choose a size according to the measurements.
Save this product for later