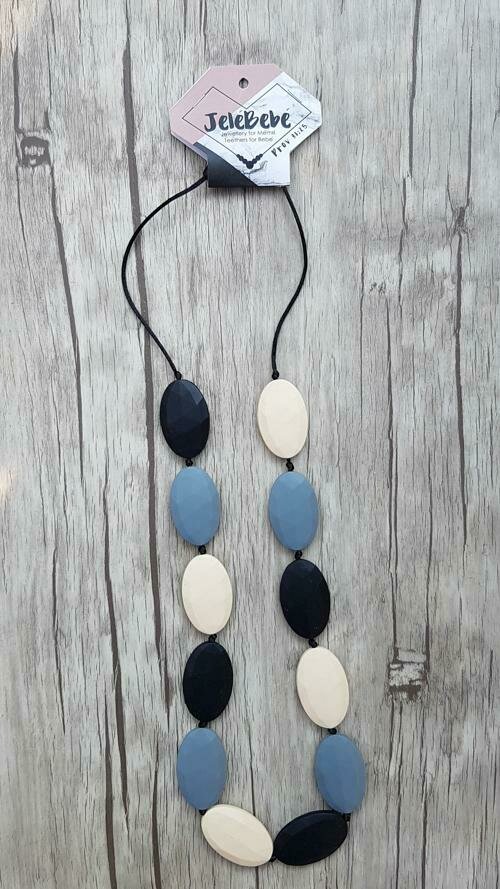 Oval Pearls
SKU 80989
Product Details
Length: +/- 40cm (full length 80cm)
SAFETY FIRST:

BPA FREE, Phthalates FREE, Cadmium FREE & Lead FREE
JeleBebe necklaces are made from BPA free non toxic food grade silicone, which is soft to feel and not hard and sharp like other costume jewellery
All JeleBebe necklaces feature a breakaway clasp, when tugged on it will snap open and not break
Highest quality food-grade silicone on the market (made specifically for teething babies)
No smell or taste
Necklace is to be worn around parent's neck ONLY! If you remove the necklace for the child to play with, please supervise your child at all times with the necklace and make sure the clasp remains closed.
And most importantly, JeleBebe necklaces look great on Meme!

PLEASE REMEMBER THESE NECKLACES ARE FOR ADULTS TO WEAR

WARNING: The necklace is not a toy and does contain small parts that can be a choking hazard and the long cord can be a strangulation risk. Check product for irregularities and it is recommended to discard after 6 months of use.


JeleBebe jewellery is made from bright colours so can assist when nursing as a distraction for bebe.
JeleBebe jewellery can assist in keeping exploring hands busy and preventing babies from pulling on your hair and clothes.
JeleBebe Silicone Jewellery is South African owned and operated.

EASY TO CLEAN: Hand wash with mild soap and lay flat to dry or wipe over with a baby wipe.
Save this product for later